Adorable Peruvian cardigan sweaters cobalt
Beautiful Peruvian folk colorful hand embroidered and felt appliques on front and after.
This Peruvian girls cardigan sweaters ocean blue is a perfect wear for your little girl in Autumn or Spring seasons, because of its hood, which, if the weather is a little windy or wet, can protect his ears and little head.
This piece of baby clothing is made by Peruvian mothers hands with care and love. Because of the design is made up by hand it will be a really unique piece of your baby boys/girl wardrobe
This affectionately handmade cardigan from the Andes of Peru is a real eye-catcher for your girl or boy. Individual motifs in your child's favorite color, which you can choose, make this cardigan a great unique item, which no one else has in this version. On walks in the nature at mild temperatures, the jacket keeps warm, but can also be attracted to the home, on special occasions, but is also ideal as a gift suitable.
Details of your handmade cardigan:
Loving embroidery with animal motifs and nature motifs
Cardigan for going out in the fresh air at mild temperatures
A great idea for a gift
Sizes available from 6 month till 8 year (please match with size chart)
Weight: approx. 0.4 kg
Material: 50% Dralon, 50% wool
Fleece lined
Colour : Cobalt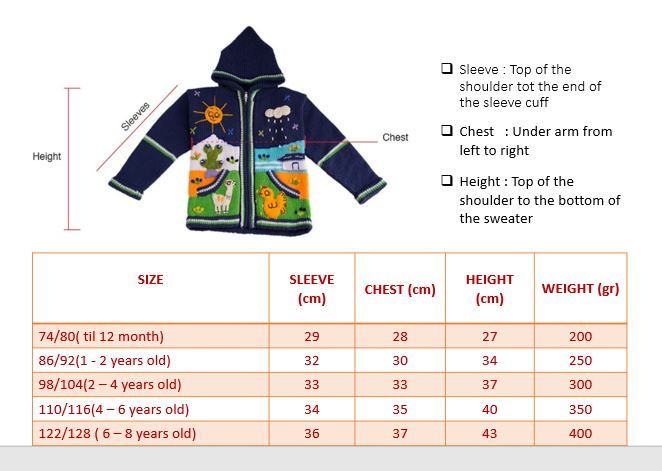 Traditional Peruvian Lined Jacket Cobalt